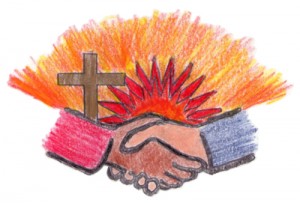 Are you an early riser?
If so, would you like to start your week in an inspirational way among a warm and caring Christian family?
Consider joining our Sunday 8:00 AM informal worship service. You will find a beautiful bond of closeness and a special atmosphere of spiritual fulfillment. We meet in the Friendship Room, using the altar dating back to 1929, keeping us connected to our past. Weekly we are nurtured on our spiritual journey, continually seeking ways to share our faith by reaching out to others.
Original artwork designed by Shelley and Daniel M.