Community Outreach Luncheon – Church volunteers prepare home-cooked food to serve to needy persons in the community on the 4th Saturday of each month, served at 11:00 am.
First Sunday Food Drive for Sawyer Family Service Center (formerly His House). Details here.
Quilts of Many Colors provides quilts to the Torrance Department of Social Services to be given to children who come under their care. This group meets on the last Tuesday of the month at 7:00 pm at the church.
Mission and Missionary Support – Through fund-raising events and special offerings, we support a variety of mission activities in the local area, the United States, and the world.  These include Toberman Neighborhood Center, Red Bird Mission, Stillman Sawyer Family Service Center, the United Methodist Committee on Relief, Habitat for Humanity, Church World Service, Heifer Project, and the St. Andrew Potato Project. More information on our Alternative Christmas Fair page.
12 Step Groups – Our church shares meeting space with a number of 12-step groups including AlAnon, Alateen, Alanon en Español, CODA, ACA and NarAnon
Fair Trade Coffee
Watch the Equal Exchange video: Who we are and what we believe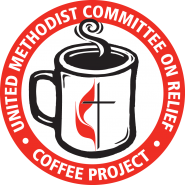 We serve Equal Exchange Fair Trade coffee after worship services. Learn about the benefits of purchasing Fair Trade coffee and other products at http://equalexchange.coop, and on their YouTube channel.
Fair Trade has become a battle ground in recent years. Read here how some Fair Trade organizations have moved away from the intended principles, and how Equal Exchange is still helping the small farmers with the Fair Trade model they have been following since 1986.
Learn more about the Stand With Small Farmers campaign.